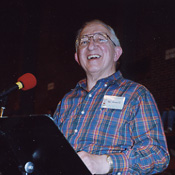 When I was first learning to call Ted Sannella was one of the great callers on the scene. I admired his humor, his unaffected style and the amazing breadth of his choreography.
The librarians at University of New Hampshire, where Ted's dance materials now reside, have created an excellent brief biography.
One day, when I should have been doing something else, I created this spreadsheet file listing all the dances that I could find published anywhere by Ted Sannella. Ted composed dances in more different formations than anyone else I know. He introduced many ideas to contra dancers drawn from other forms of dance, such as the "lady round two and the gent cut through" figure from square dance, or the three couple longways form and figures like heys and figures of eight from English country dance. He also incorporated many elements from contra chestnuts into his dances, such as reusing the Petronella spin in Fiddleheads, or the Money Musk geometry in King of the Keyboard. Ted's influence on later choreographers is difficult to calculate, but clearly extremely important. Look at how many, for example, followed his lead and recycled the Petronella spin in new compositions!
Styles of choreography change, and Ted's dances are no longer the latest thing. However, I have always found them to be a rich vein to mine, and callers who continue to use Ted's dances may be amazed at how doing so will widen their repertoire.